We will be present at the next exhibition of  Salon de l'Herbe et des Fourrages, on  Wednesday 30th and Thursday 31st of May in Novoitou (35) near Rennes.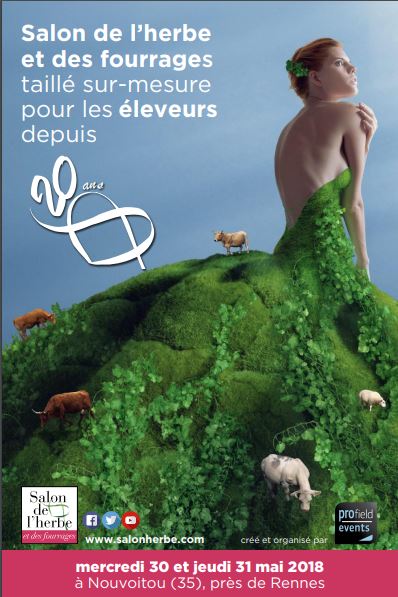 The grass and Fodder exhibition will bring together 150 exhibitors and 30 000 visitors on 40 40 hectares.  A unique lane will allow you to find, without missing any demonstrations of regeneration, mowing, wilting, swathing, pressing, silage, mulching, contention, grazing, transport, spreading, demonstration in silo…all in real conditions, as if you were in a farm!
Several innovation this year :
More new Materials: the majority of them will be presented during demonstration: the soil, sowing, all forms of harvesting and fodder distribution, spraying.
More Visitors: by opening to all forage crops, the exhibition has become the Exhibition in the fields thought for all the western farmers.
More plant showcases: The largest plant showcases for fodder in France/ Many collections of maize, sorghum, beet, Meslin have been settled for this edition.
More Expertise: With the possibility to meet during the Nutrition meetings  participants of national recognition and a great number of engineers from official agencies, research and of popularization in technical workshops and during the colloquiums organized in the Space dedicated to advices
For more information, feel free to see the show' presention video !
We will be pleased to present you the last evolutions regarding silage and wrapping films
We hope to have the pleasure to welcome you on our stand number 112.