In their wish to differentiate itself from its colleagues, the BARBIER Group launches its brand RegéFrance. It is Made in France recycled raw materials (RRM).  A first for the market!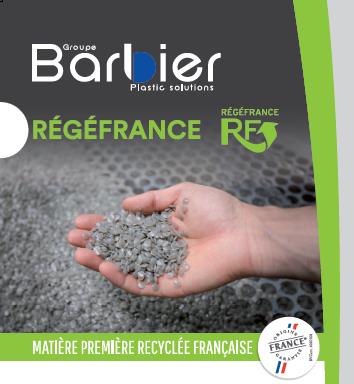 For greater reliability for its customers, the Barbier Group has certified its brand RegéFrance "Made in France" by an outside agency, the VERITAS office.
What is RegeFrance? This is the guarantee for the Barbier Group's customers that the recycled raw materials used in their products are French Origin post-use waste. This are used plastic films (and not production loss) collected in France.
RegeFrance, what for? To create with the customers of the Barbier Group loops of local circular economy, which makes sense! The Barbier Group recovers used plastic films, recycles them and reincorporates them into products. On average, the group reincorporates 20% of recycled raw materials in all of our productions thanks to its technical expertise, and this share is only growing. This is an average, depending on the products; the reincorporation rate can vary from 0% to 100%. For example, the Recyplast range of industrial packaging products incorporates up to 50% of recycled raw material. By 2025, Barbier plans to achieve an average incorporation rate of about 40%!
Where do plastic waste and used plastic films come from?
Used plastic films mainly come from:
– Selective collection of French households
– The collection of used agricultural films organized by Adivalor (radius of 200km)
– Partnerships with the group's customers to recover their used films
Plastic waste becomes raw materials deposits, as long as they are properly collected, sorted, recycled and reincorporated.
As a reminder, the Barbier Group already has "Made in France" certification for all its products. From now on, we also have it for our RegéFrance recycled raw materials.
One more step for Barbier towards the circular economy and sustainable development.